Fire Risk Assessments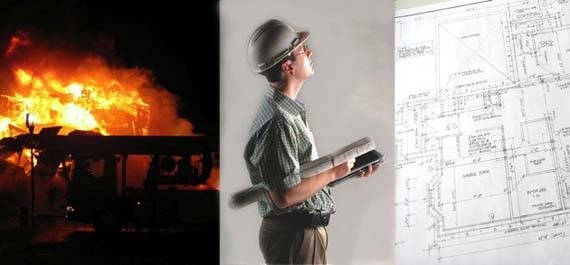 Are YOU the 'Responsible Person'?
Fire risk assessments are a legal requirement for all UK businesses and organisations employing more than one person. The basic requirement is that each organisation must identify and nominate an individual as the 'responsible person'. That person's duty is then to ensure that all reasonable steps are taken to eliminate the risk of fire on the premises. The responsibility is for all the individuals that work at the premises and visitors.
Shopfit Design & Management Ltd. offer a full Fire Risk Assessment service. The assessment is carried out by an experienced and qualified professional fire risk assessor and documented in a comprehensive written report with recommendations.
For more information, call Shopfit Design & Management Ltd on 01623 652724 and ask us about a professionally carried out Fire Risk Assessment of your commercial premises.
If you would like a quote, send us your details and we will be in touch.
Fire Risk Assessments are now required by law from October 2006
Premises covered by the law include:
Offices & Shops

Premises that provide care, including care homes & hospitals

Pubs, clubs & restaurants

Educational premises

Leisure centres

Community halls & premises

Places of worship

Houses of multiple occupancy

(HMO)

Hotels & hostels

Care homes

Factories & warehouses

Industrial Units
Reponsible Person Must Be Assigned To Guarantee Fire Safety
Everybody entering your business premises: employees / staff, contractors / workers, clients / customers, freinds & family or other visitors - has a responsibility to ensure fire safety. It is a legal requirement that all businesses must now have a legally-designated "responsible person" whos' duty is to arrange for a Fire Risk Assessment, identify any possible fire risks and deal with them. The law came into force in Northern Ireland in 2008.
In most cases, it will be obvious who the responsible person should be, although sometimes several people will share responsibility for the risk assessment - for example in a shared premises or larger businesses. The 'reponsible person' will be someone who has control over the premises, or over some areas, departments or systems. For example, it could be:
an employer with control of a work place

a person with overall management of a building

an occupier of a premises, owner of a premises

landlords (multi occupied buildings)

the owner or manager of a business

the owner or managing agent of premises which are shared between a number of businesses

individuals within a multi-occupancy building, such as self employed people or

volutary organisations if they control someone within the premises
You should establish who the resposible person is within your business or premises. If it is not clear, then your local fire authority will decide who should be resposible for the fire risk assessment, or you can callShopfit Design & Management on 01623 652724. Where there is more than one person responsible for a premises they are expected to:
co-operate with the other responsible persons so far as is necessary to comply with the fire risk regulations

co-ordinate with the other responsible persons' measures required to comply with the fire regulations

share information with each other
Fire Risk Assessment - Duties of the 'Responsible Person'
The 'Responsible Person' is someone who has control, or a degree of control, over premises or fire-prevention systems within premises. As the resposible person, you must ensure that everyone who uses your premises is able to escape if there is a fire.
Your Fire Risk Assessment will need to consider anyone who might be on your premises, including employees, clients/customers, visitors or members of the public. You need to pay particular attention to those who may need special help, such as the elderly or disabled people or children.
You must:
carry out a risk assessment for fire, identifying all possible dangers and risks

think about who might be particularly at risk - e.g. you may have disabled employees, or people who work with hazardous chemicals

illiminate the risk from fire, as far as reasonably possible

put in place fire precautions to deal with any risks that remain

make sure there is adequate protection if you use or store flammable or explosive materials

have a plan to deal with emergencies

record your findings and review them as and when necessary
If you are the 'responsible person' you must ensure that the Fire Risk Assessment is carried out. You can appoint some other competent person to do the actual assessment, but you are still responsible in law. In many premises achieving fire safety is likley to be a matter of common sense providing the responsible person makes enough time available to go through all the necessary steps.
The enforcing authority, which is usually the local fire authority, must be satisfied with your safety measures. If not, they will tell you what you need to do. If they find major problems they can restrict the use of your premises or close them all together until you deal with any problems they raise.
Anyone who has a degree of control over the premises or a part of the premises can be designated a 'responsible person'. If this person is you, then you need to consider what you can do to protect yourself and the others using the premises from the risk of fire and become compiant with teh recent changes in Fire Safety Law. Further details of recent changes to Fire Safety Law can be seen at the GOV UK website. You can find out more on Fire Safety in the workplace here. If you have any doubts or would like expert advise about our Fire Risk Assessment Service,Call Shopfit Design & Management Ltd. on 01623 652724